For lots of great information like holiday recipes, the history of the Christmas tree and tips on selecting your tree, visit this web site:

http://pickyourownchristmastree.org/traditions.php

To hear "Little Saint Nick" by the Beach Boys, here's a link:

http://www.youtube.com/watch?v=aSynDh_K0E

NEED DECORATIONS OR A STAND FOR YOUR TREE?
The Willamette Humane Society Thrift Store has lots and lots of decorations for your tree and your house--all at bargain prices! They also accept donations of household goods, clothing, etc. All donations are entirely tax deductible, and the proceeds from all sales go to support Willamette Humane Society programs. Find information at:

www.whs4pets.org

DID YOU KNOW?
The 5 most common Christmas trees grown in the Pacific Northwest are: Douglas fir, Noble fir, Grand fir, Fraser fir, and Scotch pine.

The Pacific Northwest is the only region in the world that produces Noble firs (according to the Pacific Northwest Christmas Tree association).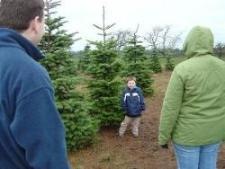 A Noble can take up to 9 years to get 6 feet tall. Known as the "prima donna" of Christmas trees, they are usually hand-trimmed each year to achieve a perfect shape. Both of these facts contribute to the higher cost of producing a Noble.



Tree farmers work hard to get nice tops on the trees. When the new growth forms in the spring, a crow or other large bird landing on it can break the top off. When a new one comes in the following year, it might be crooked. One of the methods of straightening tops is to tie a cedar stick to the trunk and the top; let it "harden" a few months; then remove the stick.

DO YOU LIKE AN "OLD FASHIONED" TREE?
Start with a thick full tree (like a Grand); decorate with your homemade garlands of popcorn and cranberries, red and green plaid ribbons, candy canes, silver tinsel, multi-color lights, and paper doilies cut into snowflakes. Then add "snow" to the tops of the branches for a "flocked" look. Here's how:

Get a big mixing bowl; add a cup of Ivory Snow (powder) or Dreft (powder) and enough water to make thick suds; using an electric hand mixer whip the soap and water till very foamy and thick. Put some protection on the floor under the tree, then spoon some of the thick suds onto the tops of the branches, where you think real snow might fall on the branches. Let it dry thoroughly before you add decorations. CAUTION: This is not recommended around small children or pets.

GOOFY JOKE
Question: What is Little St. Nick's favorite treat?
Answer: HO-HOs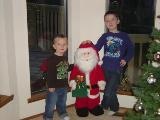 We wish you a very Merry Christmas and Happy New Year!