Little St. Nick's Tree Farm

591 Hylo Road SE - Salem - 503.580.9001 - info@littlestnicks.com

A family tradition since 1992
Beautiful choose-n-cut Christmas trees in South Salem
___________________________________________________________



WELCOME to our 2017 holiday season and our 25th year of greeting you at our little family farm.

_________________________

ANY SIZE (up to 7') NOBLE FIR ... $30

>>> OPENING DAY: Saturday, Nov. 25 <<<

Hours: 10:00 am to 4:00 pm

Dates: Saturday, Nov. 25 - Sunday, Nov. 26
Saturday, Dec. 2 - Sunday, Dec. 3
Saturday, Dec. 9 - Sunday, Dec. 10

It's our 25th Anniversary and we hope you can join us to help celebrate! We'll have free hot chocolate and candy canes ... and the 25th tree sold each day will be at HALF PRICE!

Whether you're the lucky winner of a half-price tree or not, you'll have fun picking out your tree and you'll get the freshest tree possible!

_________________________________________________________________________


LOOK FOR OUR SIGNS

> We furnish the saws
> You cut & load
> Cash only--sorry, NO DEBIT OR CREDIT CARDS

We're looking forward to seeing you!

______________________________________________________________


"Like" us on Facebook at:

This year you'll find:

NOBLE FIR - $30

Two fields to choose from! They have a rich green color and have not been "over-sheared" so you'll find room between branches for your ornaments. So if you prefer a "natural" look, we have them.

If you've never had a Noble Fir before, try one this year -- they're wonderful trees that will last a long time in your house. Preferred by many people, Nobles are grown only in the Pacific Northwest.

Don't you just LOVE the smell of a fresh real tree in your house?



You get:

- An "Armstrong" saw to cut your tree. (No chainsaws allowed.) And we care about your knees, so you get a mat to kneel on!

- Free candy canes for the kids.

- Bring your well-behaved family dog on a leash to help you pick out your tree and get in the pictures (Woof).

- A toasty bonfire to gather around on extra-chilly days. Great place to warm up and visit awhile!

- Level ground close to the parking area (but you will need to walk over some gravel, grass and dirt).

- Views of Mount Hood and Mount St. Helens to enjoy on clear days.

- A short drive to South Salem, with easy access from I-5 or
Sunnyside Road S.

- And ... You get a beautiful tree at a great price!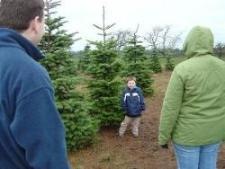 Remember to bring your boots and gloves. It can be cold and windy up here on the hill.



Bring helpers with you to get your tree up on the car roof or stuffed into the trunk.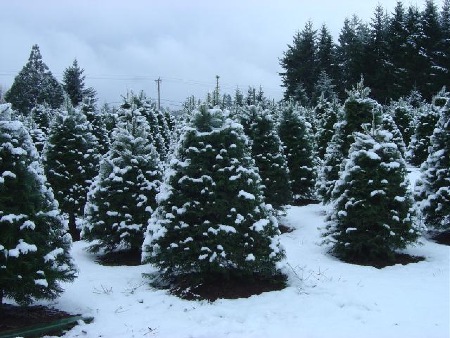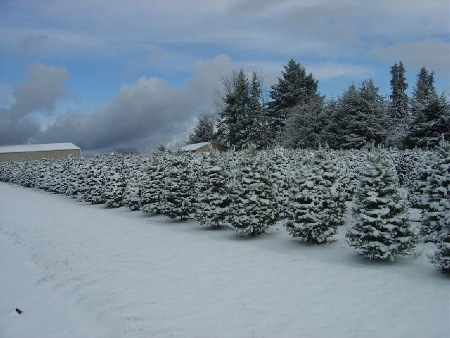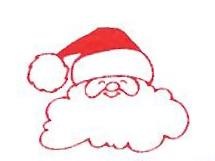 Little St. Nick's Tree Farm
591 Hylo Road SE
Salem, OR
Phone: 503.580.9001
E-mail: info@littlestnicks.com